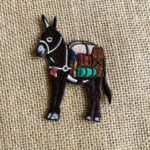 Off-Road Mule Velcro Backed Patch
Off-Road Mule Velcro Backed Patch
$8.00
*Ships directly from our Murphys, California headquarters.
In stock
Buy a Hybrid Scout Pack, and add a patch for free! Visit our Patches section to choose a patch.
Add our our Off-Road Mule to your collection!
.: 2.5″ x 3″ patch
.: Velcro backed
Limited supplies.
Questions and answers from customers
There are no questions yet. Be the first to ask a question about this product.