PLEASE READ BEFORE PRE-ORDERING
Our Kickstarter Campaign has successfully ended! Thank you to everyone who backed this project. We are now allowing Pre-orders for the Elemental Duffle Bag. We will be fulfilling all Kickstarter orders first, but we've already got the manufacturer going so we should have plenty when they do arrive. We expect to start shipping Kickstarter orders by the end of November, or early December at which point all Pre-orders will begin after. The December 1 ship date above is what we are shooting for, and we should have them in time for Christmas shipping… but again, no guarantees, but that is the plan.
We are so excited about our new Elemental Duffle Bags! This is the first series of duffles in our Gorilla Dirt X Pro series lineup! These join our already launched Adventure Blankets in our pro series.
Made from a highly durable, waterproof polyethylene material, it's a very strong, durable fabric made to withstand the elements and be GORILLA TOUGH. This bag was designed to keep dust, dirt, mud, and water out! It has been beaten and abused over the course of a few months during our initial testing as well as out on the trail from other individuals like yourself. Putting it to the test on the trail.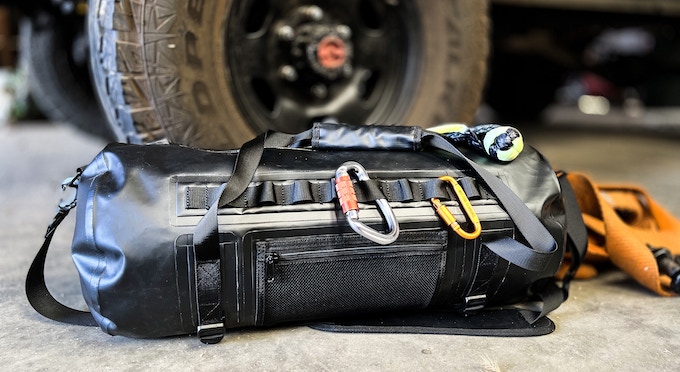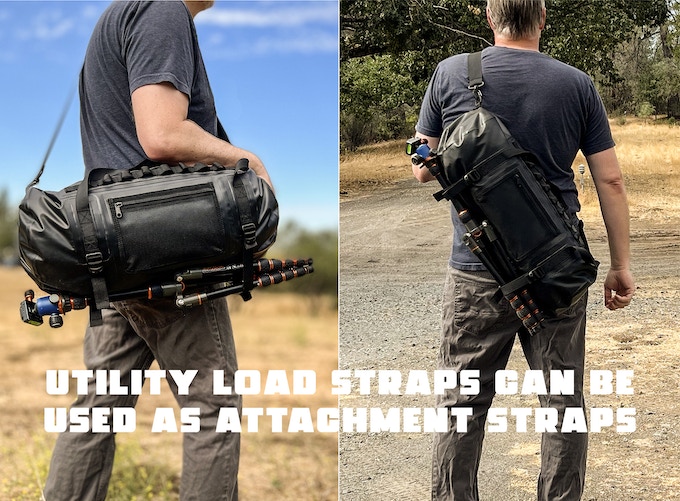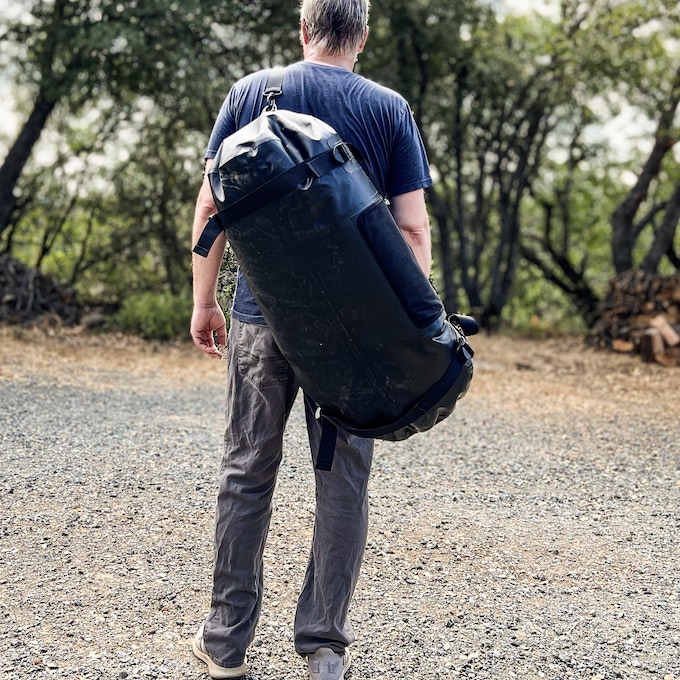 Being outdoor enthusiasts, we wanted a bag that we could easily haul gear, clothes, and other items on our adventures without having the bulk or weight of moving around a cargo box. Our goal was portability and durability. Whether on the trail, at camp or anywhere else, we needed a bag that would resist the elements and protect our gear. Thus the Elemental Duffle Bag was born.
For anyone who needs something more than a cloth bag but doesn't need the size and weight of a box, the Elemental Duffle Bag was designed for you.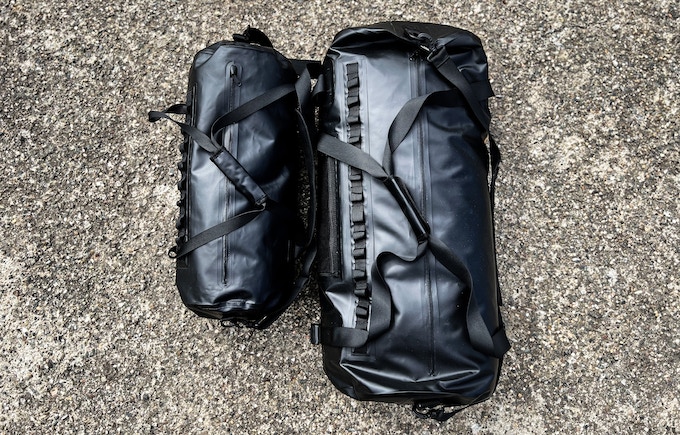 The bag starts with a matte black, weather-resistant polyethylene shell. Heat-sealed seams add extra protection from dust, dirt, and moisture. We don't consider this a dry bag, as it wasn't designed for this. It was designed for portability and protection when on an adventure but was not designed to be submerged or left in a downpour. However, it will provide really good protection in a monsoon, though we recommend simply flipping it over, and zipper down, if the need arises.
Because so many of us have extra gear and accessories we like to bring along, we've included Molle style loops to attach the accessories. Whether a first aid kit, soft shackles, carabiners, or anything else we need, these loops add extra utility to the bags.
The load straps not only add extra load support for hauling heavy gear, but because these are adjustable you can use them to strap extra gear to the duffle. Fishing poles, tents, umbrellas… the list goes on. If you happen to be using this bag on an ATV or even the roof of your rig and don't have tie downs, you can use these load straps to attach the duffle onto your rack – though we don't recommend these straps as the only attachment for high-speed highway driving. 😉
The interior is like a giant black hole, just swallowing the contents of your gear. There is an external mesh pocket as well as an internal sealed pocket.
Two sizes to choose from. The 28L makes for a great weekender style duffle. Its smaller size makes it great for carrying long periods of time, using it for weekend gear or smaller items on longer trips. The 65L is a huge black hole that just swallows up your gear.
Features:
Heat-pressed seams for weather resistance (though this is not a dry bag).
Matte black waterproof polyethylene shell.
Extremely portable – it's a duffle bag!
Nylon straps and hardware.
Zipper hoods for extra elemental protection.
Molle-style utility loops to attach carabiners, recovery gear, ties downs, or just about anything else you can fit.
Bottom support straps are adjustable and can be used to attach additional gear or act as tie-downs onto racks.
28L
22″L x 10″ W/H – Approximate. Dimensions can increase or decrease depending on much you stuff into this.
Weight: 1lbs 9oz
65L
31″L x 14″W/H – Approximate. Dimensions can increase or decrease depending on much you stuff into this.
Weight: 2lbs 10oz
We gave one of the early 65L duffle bags to Baptism Overland and he went to town on this bag and left a great review on Youtube. He abused this bag in ways we didn't expect it to be abused in normal use but loved seeing the results. Check out his video below.